Born in Eolo 13 August the 1980, FABIO MOSSINI, firstborn MOSSINI LUCIANO, Chairman of MOTORCYCLE CLUB EDOLO, as a child he cultivated the passion of two wheels, making, with the passing of the years and especially thanks to the remarkable achievements, PROFESSION her and her "ikigai", that is its raison d'etre!
"MOSS", NAME AND SHE FABIO 'KNOWN IN THE ENVIRONMENT OF TWO WHEELS, 'A BIKER THAT PROFESSIONAL, DURING HIS CAREER, He has trodden THE BEST INTERNATIONAL CIRCUIT OF MOTOCROSS AND ENDURO!
IS stato:
CT the National Chilean France 2017 alla six days di Enduro.
From 4 March 2017 is the RECORD HOLDER OFFSHORE with twin motorcycle 5.965mt.
Since January 2014 in January 2018, It moved to Chile, exercising the role of pilot and INSTRUCTOR TEAM MANAGER for Honda Motor de Chile.
In 2015 CHAMPION is CHILEAN ENDURO 450cc.
In June 2016 COLLABORATION began with Honda HRC, MANAGEMENT and in the logistics team in the WORLD RALLY CHAMPIONSHIP Inca in Peru, RALLY OF ATACAMA in Chile and later editions of DAKAR 2017 e 2018.
It obtained the third place of the podium in the WORLD CHAMPIONSHIP INDOOR WORLD CUP 2009 and twice he reached the second place in the WORLD CHAMPIONSHIP TEAM, with the national team to six days Greece 2008 and Portugal 2009.
FOUR TIMES CHAMPION ITALIAN, in the years 1994/1999/2009/2012
Currently FABIO is MOSSINI: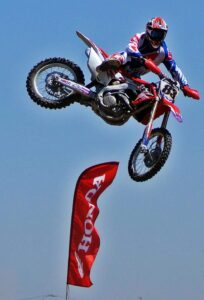 SALES DIRECTOR Italy two major brands, which Just1 and Origin.
RACE SERVICE MANAGER for Just1, in absolute Italian Championships and World Enduro Championship.
TESTER for Pirelli.
Admitted to the IMF technical INSTRUCTORS.